Music
Music is a universal language that embodies one of the highest forms of creativity.
Intent
Our vision for Music is:
For all children to be engaged and inspired by music and to develop a love of music.
For all children to explore their own individual talents as musicians and for them to have opportunities to work collaboratively to create music.
For all children to be exposed to a diverse range of musical instruments, musicians and musical genres and for them to be able to express their own opinions about the music they encounter.
For children in the early years to understand their world through exploring their creative interests in music and for them to have opportunities to enhance their personal creativity and imagination.
Implementation
To achieve this, in line with the National Curriculum, we have developed a progressive Music curriculum for our school which supports children in making cross-curricular links and offers them opportunities to embed the skills they are learning in varied ways. We teach pupils to perform, listen to, review and evaluate music across a range of historical periods, genres, styles and traditions, including the works of the great composers and musicians. Pupils create and compose music on their own and with others and have the opportunity to learn a musical instrument and even explore how music is created, produced and communicated, including through the inter-related dimensions: pitch, duration, dynamics, tempo, timbre, texture, structure and appropriate musical notations.
At South Camberley, children learn to sing and to use their voices for a variety of purposes, including performances to parents in school and at locations such as Princes Hall Theatre, within our local community and during assemblies. Our school choir has even had the privilege of singing at Young Voices – an enormous collaborative concert which fills the 02 Arena!
Our specialists teach pupils in their classes to play the ukulele and guitar, and they even transport them to Africa where they are taught how to play djembe drums! We are so proud of our achievements that we have even performed them in the Camberley Carnival and held concerts for our parents to enjoy! As we move into Key Stage 2, pupils learn to play the saxophone, a fun versatile woodwind instrument and a great way for children to start learning about various styles of music, including classical, pop and jazz.
Alongside our specialist provision, we follow the acclaimed Charanga music scheme which offers opportunities for pupils to enjoy and participate in music which spans a broad range of genres, from gospel to rock.
In addition to our whole school curriculum offer, we employ the services of Rock and Pop Foundation who provide individual lessons for those pupils who wish to expand their musical interests further by learning guitar, keyboard, classical piano or drumming.
Impact
Our diverse and enriching curriculum ensures that children leaving South Camberley and moving on to secondary school are equipped with an appreciation of a wide variety of musical genres and are able to form opinions about their own preferences. By the end of Year 6, they have engaged with a diverse range of music from a vast array of different cultures and historical time periods, styles and traditions. They have had opportunities to develop more varied ways to express themselves through music.
"Music can change the world because it can change people", Bono, O2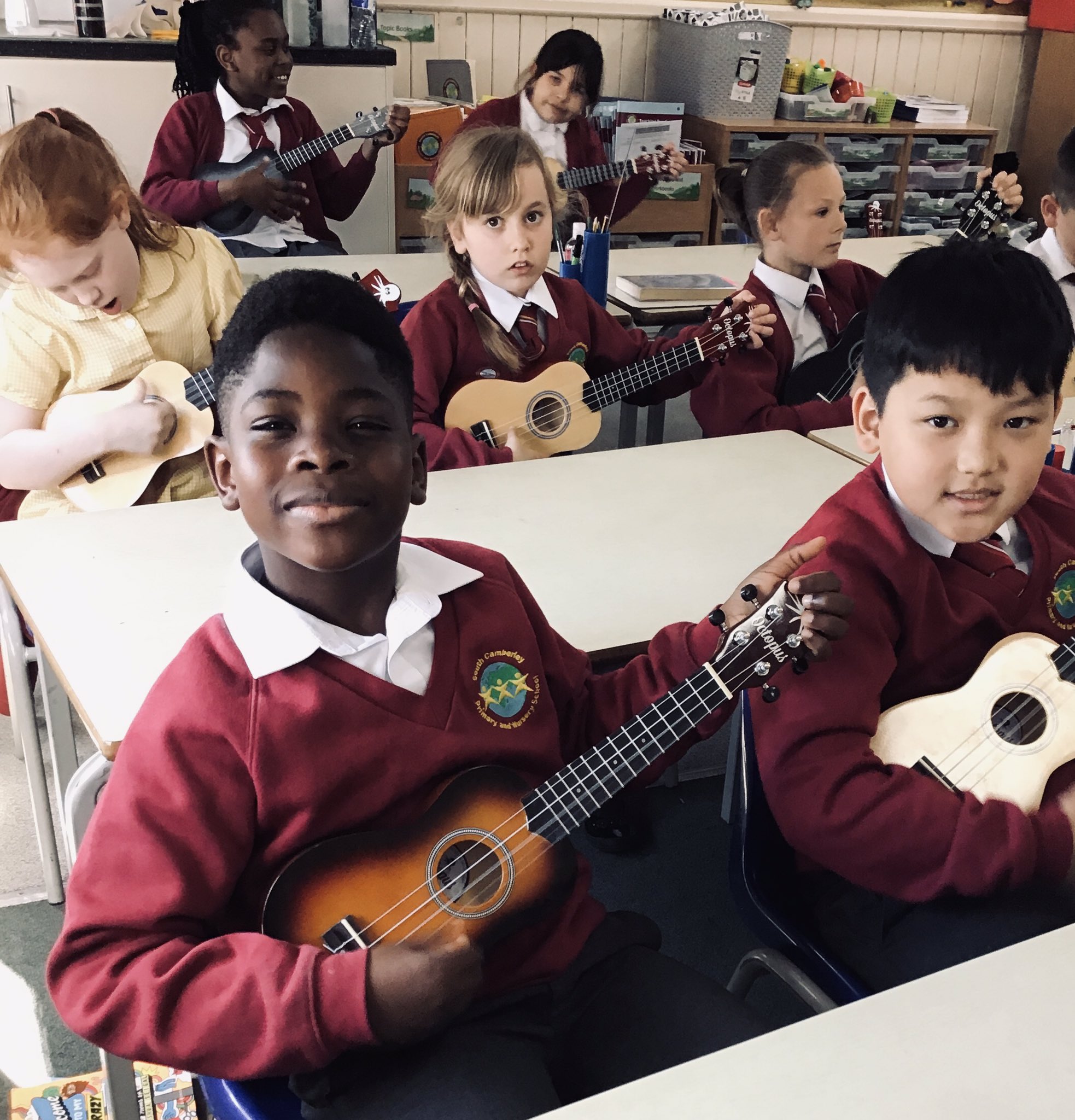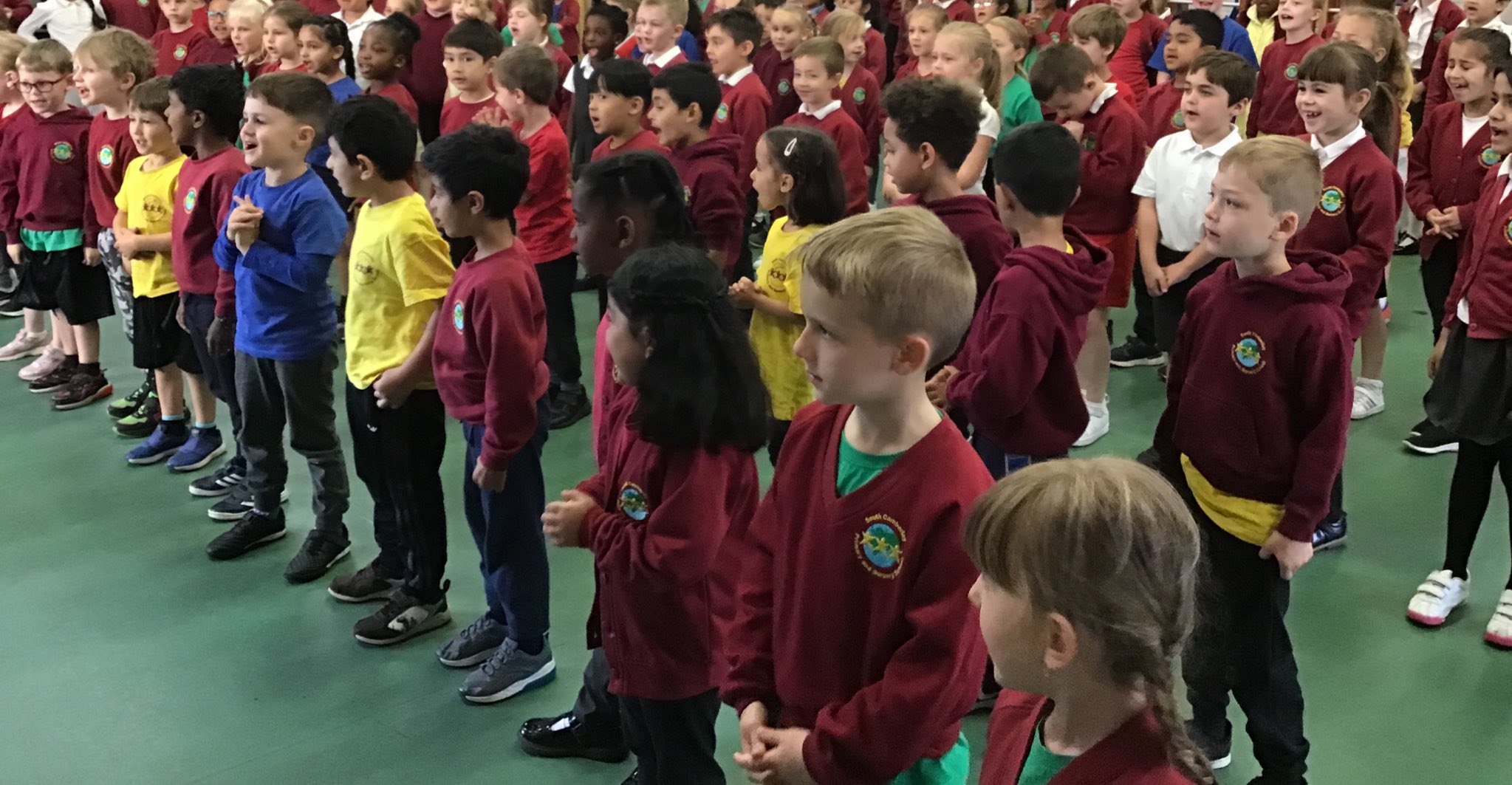 Please find below our Music Overview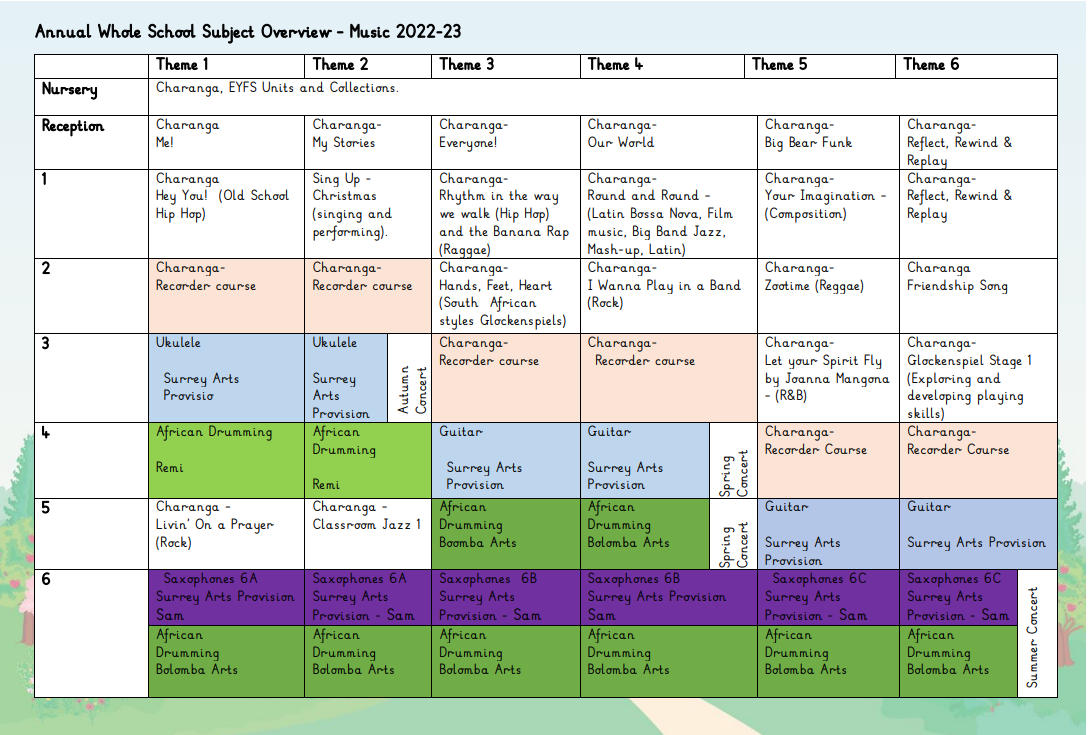 Individual and group instrument tuition
"I love singing for my well-being".

"I have learnt to play the drums, the ukulele and the guitar. I loved learning how to mix music with Garage Band."

South Camberley Pupils