Online Safety
PARENT GUIDANCE FOR Online SAFETY
Parents should be clearly aware of the school's policy of access to social networking sites. Where a disclosure of bullying is made, schools now have the duty to investigate and protect, even where the bullying originates outside the school. Parents must also understand that they are responsible for access to technology outside of school, if issues arise parents must review their home security and access to technology.
Safer Internet Day 2022
Parents Online Safety Session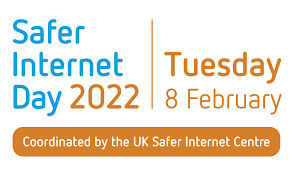 As part of Online Safety Day 2022, and our continued commitment to keeping our children safe online, we are inviting parents to talk about Online Safety. The aim of these sessions is to provide practical advice and tips to help parents manage their children's time online and make it as safe and enjoyable as possible. The session will touch on the following areas:
• How your child learns about Online Safety in school
• Safe settings, controls and management
• Where to go to find out about apps and games your children use/play
• Managing Screen Time
• Help and Reporting

Resources used during the session will be shared so attendees can access them at home when needed.
Here are the details of the session and a link to join us on the day...
Parents Online Safety Session
Tuesday, February 8 2022 · 4:00 – 4:30pm
Video call link:
https://meet.google.com/rfu-tbbg-pbf
Parents Online Safety Session 2022
For those Parents and Carers unable to join our session here is a pre-recorded version for you to watch. We have also turned the presentation in to a PDF so that you can access all the resources discussed in the session.
Presentation Slides with Links
Great 'One Side Guide' for Parents
Useful Sites:
You should check out these amazing organisations which support parents and are bound to have something useful for you.
We love their...

...newsletter and approach

...app, game & film guides

...guidance and resources

...parental control guides

.